Howdy!
This year we are celebrating our 26 years at our unique shop located in the Ghost Town at Knott's Berry Farm.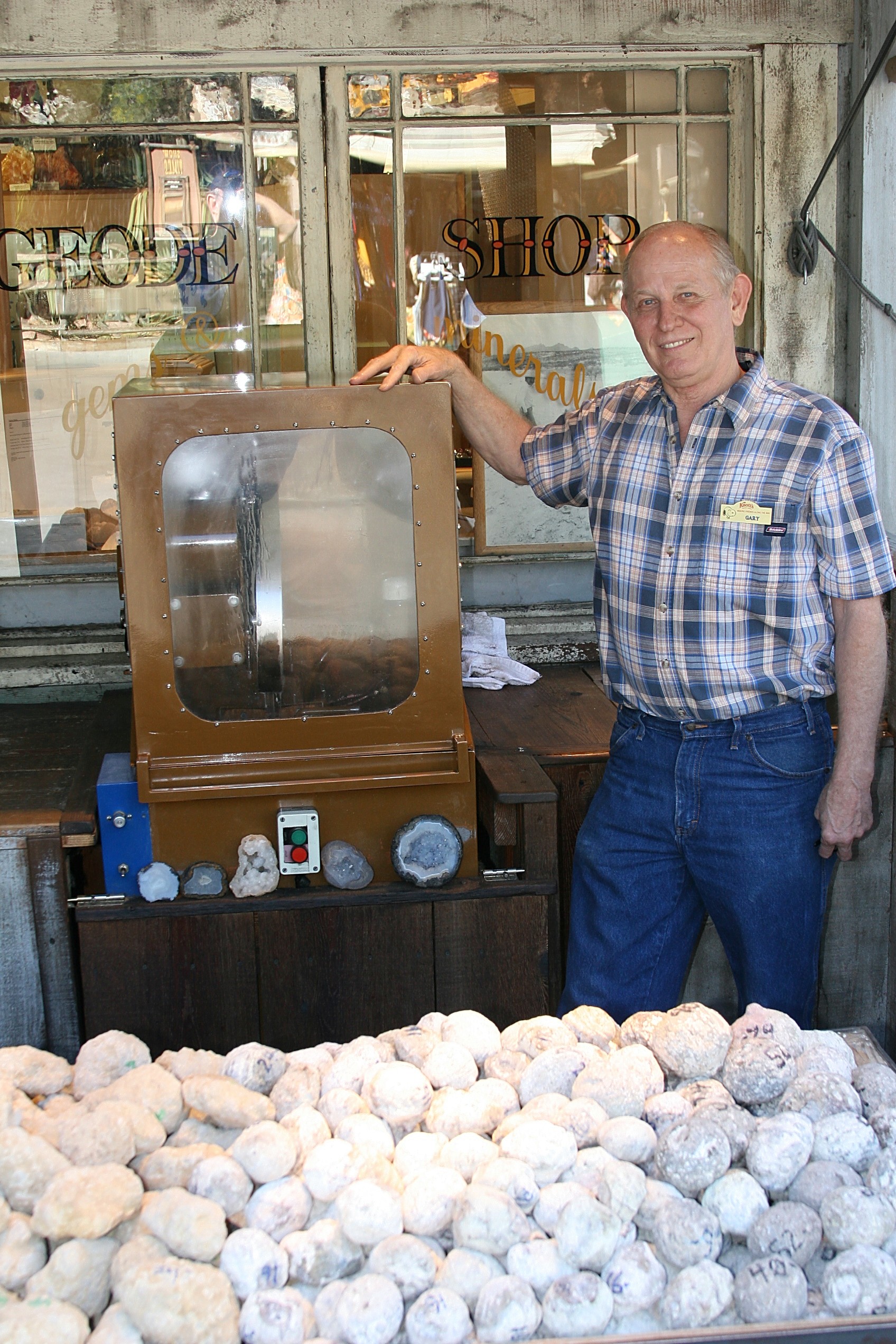 Geodes are our specialty here at the shop. We carry a full line of different types of geodes from numerous worldwide locations that are polished and ready for your collection.
When you come to visit us you will notice an antique miner's car loaded with a wide variety of uncut geodes in the front of our store. They are available for purchase and cutting them open is included in the price. We'll explain to you what you see when you look inside your geode.
If you'd like to bring your geodes to us we offer custom cutting for a nominal charge. We can cut anywhere from two and three quarter inches up to seven inches in size.
Shop Manager
There is a large display of pewter figurines mounted on and in geodes, pyrite, and agate slabs.
We have a great display room filled with fossils and meteorites from local and far away places. Within this collection you will find all parts of dinosaurs from teeth to bones and even coprolites.
We are happy to offer around 25 different types of meteorites. We have some that would tickle the fancy of a beginner and even some for the serious collector. Our selection includes shatter cones, Mars and Lunar meteorites.
The Geode shop also caters to the avid mineral collector. There is a mineral room where you can find specimens as little as 1x1 and up to cabinet size. You will love our large selection of bookends made up of Mexican Coconuts, Dugway, and Septarian Geodes, Quartz Crystals and Amethyst Cathedrals.
We would like your experience in our shop to be an interesting and enjoyable one. While here you might like to view our collection of dinosaur eggs, it's one of the largest collections around. We offer an educational geological talk for students that sign up with the Knott's Berry Farm's "Adventures in Education"
Stop on by when you are visiting the park or obtain a "Shoppers Pass." These are available at the guest relations office to the left of the ticket booths located at the front of the park. The "Shoppers Pass" is offered at a nominal price. You may pay with cash or credit card. It allows you to enjoy a shopping experience with us for up to 45 minutes. Guest Relations will give you a full refund of the entrance price if you return within the allotted time.
Please browse through our website and come on in for a visit….you'll be glad you did!